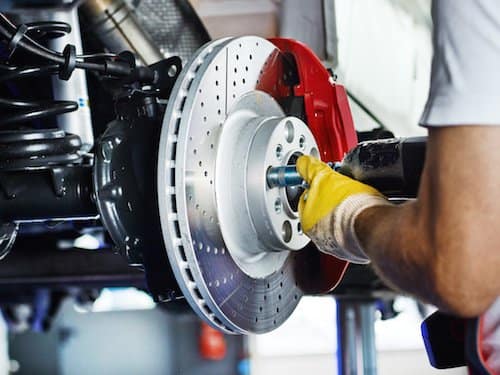 When it comes to your safety on the road, your car's brakes are among your most valuable allies. Here at Huffines Kia McKinney, we understand how crucial it is to keep your car's brakes performing at their best. That is why we are devoted to providing the brake services and repairs necessary to all drivers around McKinney, Dallas, Allen, Richardson, Piano, and Frisco.
If you've been thinking about where you can have your brakes serviced, get to know our service center.
Our Brake Repair Services
When you choose Huffines Kia Mckinney for your next brake repair or replacement, you can count on us to provide the quality service you need to ensure your safety. When you take your car to our service center, we will thoroughly inspect it to find out the most effective repair. With years of experience working with all kinds of vehicles, our team of experts will get the job done right. 
Here's a look at some of the most common brake repairs we perform:
Brake Bleeding
Brake fluid keeps your car's brake system running smoothly, and it should be replaced every two years. To replace the fluid, our technicians bleed your brake system. This eliminates old fluid and air trapped within the system. Once your car's brakes have been drained, we'll be able to add new fluid. 
Brake Pad Replacement
Your brake pads wear down over time, which makes it harder for your car to come to a clean stop. When you need new brake pads, you can take your car to our service center, where our qualified technicians will replace your old brake pads with new ones. 
Rotor Repair and Replacement
The brake pads and the rotors work together to bring your car to a stop. Like the brake pads, the rotors will wear down after a year or two and can become uneven. Depending on the rotors' thickness, our technicians can resurface them to make an even surface. If they are too thin to resurface, we will replace them with new rotors.
Regardless of the vehicle you drive, we've got you covered when it comes to repairing or replacing your brakes. We can also do more than brake service and repair, of course. No matter what's going on under your car's hood, we'll be happy to check it out and provide the maintenance or repairs needed to get you back on the road with confidence. 
When to Schedule a Brake Repair
When should you get your car's brakes replaced or repaired? On average, brake pads should be replaced every 30,000 to 50,000 miles. However, that number can vary, depending on several factors, including the quality of the brakes, your driving style, and the road conditions. 
Mileage isn't the only factor that can determine when it's time to schedule a brake repair or replacement. You should keep an eye out for other warning signs, including:
Vibrating brake pedal: 

When your car's brake pedal begins to vibrate, it's likely caused by one of these three underlying issues: improper wheel alignment, brake pads that are contaminated with dirt or oil, or rotors that are cracked or warped. You should schedule service as soon as you can to make sure you are safe behind the wheel. 

Grinding or squealing noises: 

When you hear these noises, they could be a sign that your brake pads have no friction material left. This means the exposed metal where your car's brake pads once lived is now rubbing on the rotor's metal. This requires immediate attention. 

Leaking brake fluid:

If notice a decline in brake performance or see dark-brown liquid underneath your vehicle, it might be caused by worn brake pads. You should take your car to our service center immediately. 

Vehicle pulling to one side: 

If your vehicle feels like it's pulling to one side while you are driving, it could be a sign that your pads are worn out or that the caliper guide piston or pins are sticking.
Our Kia Service Center
Taking your vehicle to our service center for a brake repair or replacement means being able to work with some of the top-notch technicians in Texas. Our technicians are thoroughly trained in everything related to brake maintenance and repairs and other services your car may need throughout its life. 
From tire rotations and oil changes to engine repairs, our team of professionals is here to help. They will always perform their jobs effectively and efficiently, no matter how small or big the job may be. 
As we are working on your car, you are welcome to spend some time in our cozy customer lounge. You can fuel up on freshly brewed free coffee while you enjoy watching a show on one of our large televisions. If you would prefer to surf the net on your smartphone or laptop, you can connect to our complimentary Wi-Fi. 
Schedule a Brake Repair in McKinney Today
Here at Huffines Kia McKinney, we are committed to making sure your vehicle can deliver the safe and smooth performance you need. If you are ready to schedule your next brake repair or replacement, here's how can you do so:
Visit us: 

If you live in the area of McKinney, Dallas, Allen, Richardson, Piano, and Frisco - or surrounding Texas communities - come and visit us to schedule your brake service appointment. 

Fill out our service form: 

You can schedule service only just by filling out our service form. When we have all your information, we will confirm the time and date of your appointment. 

Chat with us online: 

You can shoot us a message via the floating bubble on the bottom right of our website. One of our representatives will reply promptly to help schedule your appointment.
No matter how you contact us, we are here to help. We will answer your queries, inspect your vehicle, and make sure you are getting the right service for your brakes. So don't wait - schedule a brake service appointment with Huffines Kia Mckinney today. We look forward to meeting you.