Welcome to the Finance Center of Huffines Kia McKinney, the leading source of auto financing near Dallas, Texas. Whether you're planning to purchase a new or used vehicle, our dealership will go the extra mile to help you enjoy your dream car with complete financial peace of mind. With our wide selection of financing solutions, we're confident that you'll find an auto loan or lease that fits your financial situation and lifestyle. Come to Huffines Kia McKinney to save big on car financing.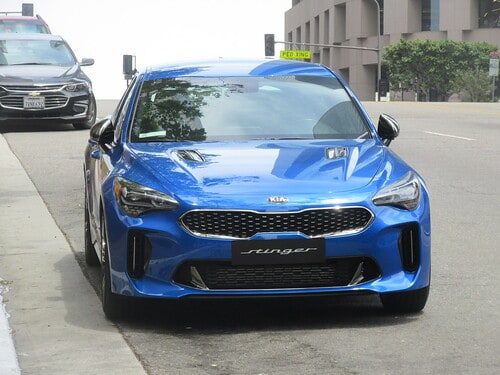 Image via Flickr by JLaw45
Buying a vehicle is a major investment that takes up a significant portion of your monthly income. Therefore, it's essential that you try to get the best possible auto financing deal. Over the years, Huffines Kia McKinney has helped thousands of drivers in McKinney and other parts of the Dallas-Fort Worth metroplex find and secure their ideal car loans, and we can do the same for you. Below are a number of good reasons why you should finance your next car through our dealership.
Competitively Priced Vehicles
One of the best ways to save on your auto loan payments is to get a good deal on your car purchase. Huffines Kia McKinney has a reputation for offering top-quality vehicles at hard-to-beat prices. We carry all the latest cars, SUVs, and minivans from Kia, which is known for producing highly reliable vehicles that deliver great value for your money. In addition, we have a large selection of used vehicles from many different auto brands, including Kia, Hyundai, Chevrolet, Ford, Honda, Toyota, and Volkswagen.
Aside from competitive sticker prices, our dealership also offers an array of new and used vehicle specials that provide amazing savings. If you take advantage of these special deals, you can shave hundreds or even thousands of dollars off your vehicle purchase. Browse our featured vehicles to see if any of them interests you.
Easy Loan Approval
Major banks and credit unions are known to have strict lending requirements. If you choose to seek auto financing from one of these sources, you need to have a stellar credit rating to get your loan application approved. Securing a car loan is a lot easier at our dealership. In addition to major financial institutions, we also work with many smaller lenders that have more lenient credit requirements. Therefore, we can help you get approved for a loan even if your credit score isn't so great.
Flexible Financing Solutions
Another disadvantage of getting an auto loan from a bank or another direct lender is that you won't have many financing plans to choose from. As such, you may have to settle for a less-than-ideal loan term or monthly payment. At our dealership, you'll have a wide variety of financing options. Whether you're looking for a small or large loan or a short or long repayment term, we can find you a financing package that perfectly suits your needs and preferences.
Fast and Hassle-Free Processing
Navigating the complicated financing process is one of the most challenging aspects of buying a vehicle. However, you don't have to worry about this if you finance through Huffines Kia McKinney.
With many years of experience in auto financing, our finance experts are familiar with all the procedures involved in helping you secure a car loan. We'll work closely with you every step of the way, from determining your financing needs to selecting your ideal loan. We'll also do all the required paperwork on your behalf, so you can just sit back and wait until it's time to sign on the dotted line.
Under normal circumstances, you'll be able to choose your favorite car, get approved for a loan, and drive off our lot in your new ride all in one afternoon. If you apply for financing with a bank, you may have to wait days or weeks for the funds to show up in your bank account.
What Financial Services Are Available at Huffines Kia McKinney?
 
 Image via Flickr by Crown Star Images
Huffines Kia McKinney strives to be a one-stop shop for auto-financing solutions. Therefore, we offer a comprehensive array of financing options to cater to the needs of all kinds of drivers. The following is a list of financing services available at our dealership.
Auto Loans
If you're looking to finance a vehicle, we can provide you with the right loan regardless of your financial circumstances. The types of car loans we offer include conventional auto loans, extended-term car loans, bad credit loans, first-time car buyer loans, auto refinance loans, and debt consolidation solutions.
Car Leases
Auto leasing is gaining popularity among vehicle shoppers because it requires a lower down payment and monthly payment than a car loan. Our dealership has flexible car leasing plans with varying lease terms and mileage restrictions to suit your unique lifestyle. These lease deals also come with competitive monthly rates and low end-of-lease charges to help you save money.
Trade-In Deals
If you're planning to replace your current vehicle, consider trading it in at our dealership. A trade-in not only saves you time and hassle, it also enables you to get a substantial sales tax credit. We're known to offer top dollar for trade-in vehicles, you can rest assured you'll get a good head start on your car purchase.
Online Financial Tools
At Huffines Kia McKinney, our commitment to you goes beyond helping you find your perfect vehicle and auto loan. We also want to make the car-buying process as easy and pleasant as possible for you. Therefore, we provide a number of online financial tools to enable you to start your car shopping from the comfort of your own home, such as a trade-in value estimator and an auto loan pre-approval form. You can use these tools to save time at our dealership.
The devoted finance team at Huffines Kia McKinney is looking forward to helping you secure a great car loan deal. Don't hesitate to get in touch with our friendly and helpful finance experts if you have any questions about auto financing. Contact us via phone, email, or our contact form.