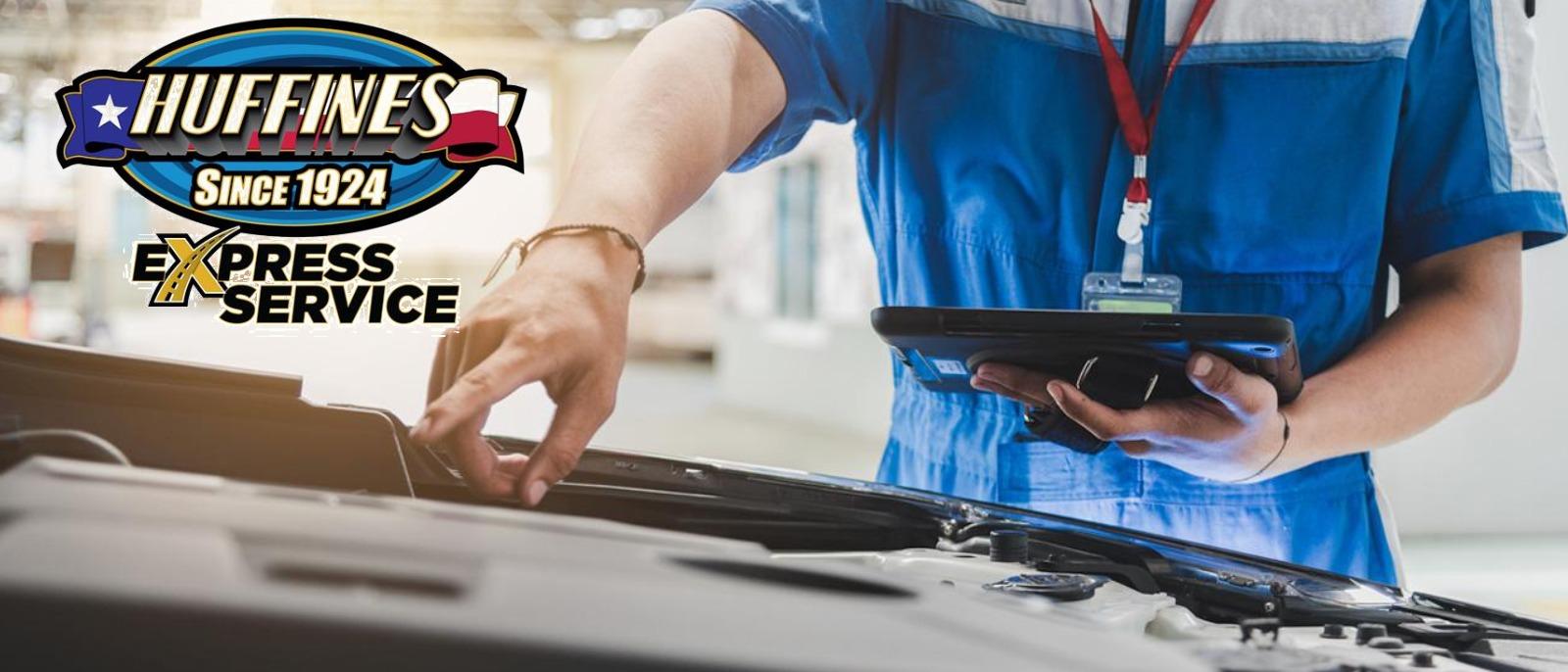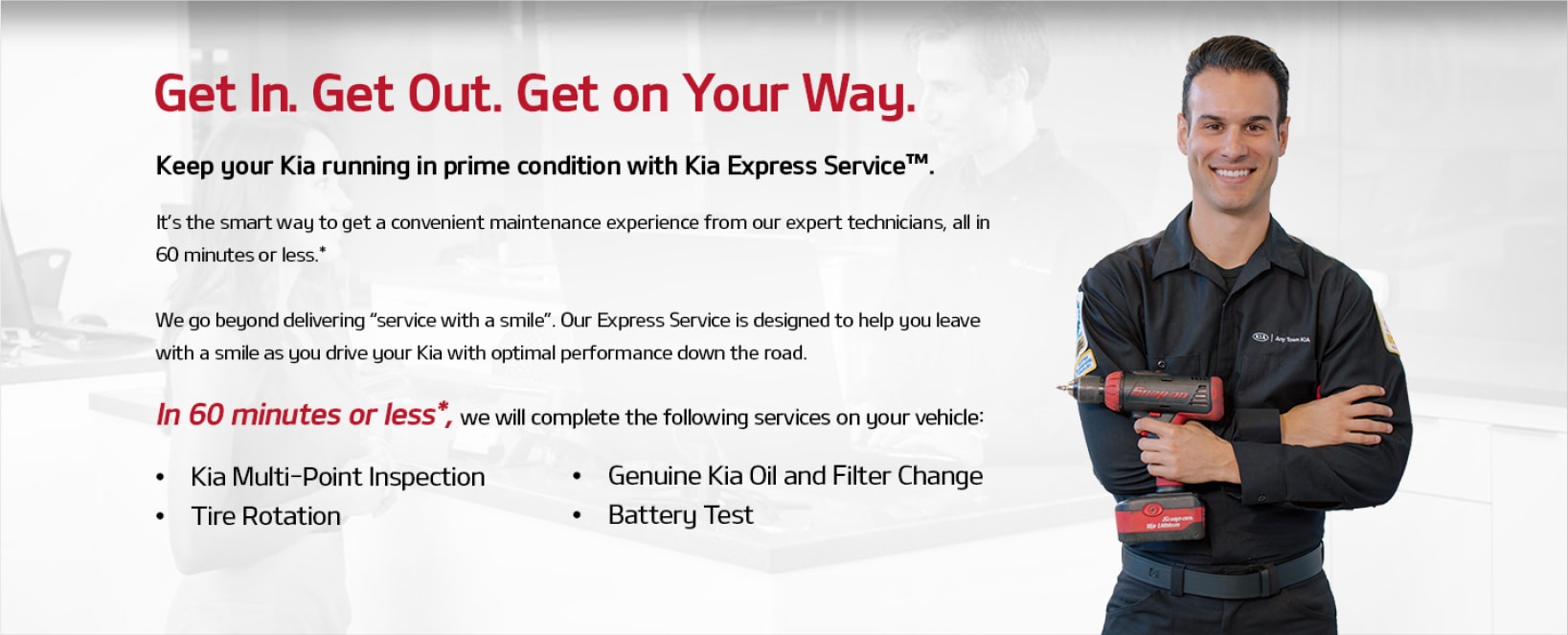 If you're looking for quality, competitively priced maintenance that fits your schedule, you've come to the right place.
As your one-stop source for routine vehicle maintenance and repairs, we don't take our responsibility lightly. That's why Kia Express Service™ is more than just fast - it's your complete service experience.
Genuine Kia Filter and Oil Change
Engine oil is the single most vital fluid for your Kia's well-being because it reduces friction between moving parts and helps remove heat from the engine. The correct oil for your vehicle is marked on your vehicle's oil cap or noted in your Owner's Manual. If your vehicle requires an oil change, it will be drained and refilled, and your oil filter will be replaced with a Genuine Kia oil filter. Your maintenance indicator light will also be reset at this time. Your maintenance schedule includes the proper engine oil and recommended replacement intervals.
Complimentary Kia Multi-Point Inspection
Our comprehensive Kia Multi-Point Inspection will evaluate and help ensure the overall health of your vehicle, and includes the following inspections:
Brake pad thickness & condition
Tire tread depth & wear pattern
Fluid level & condition
Cooling system & hoses
Drive belt condition
Steering & suspension components
Exhaust system & under vehicle components
Battery performance & terminals
Vehicle exterior & windshield condition
And much more
Tire Rotation
Tires play an important role in your vehicle's handling, performing and driving comfort, and can also have an impact on your Kia's fuel efficiency. So make sure to keep your tires properly inflated and use tires that match your Kia vehicle's specification. Tire manufacturers recommend that tires be rotated every 5,000 miles. Tire rotation is important for even tread wear and long life. When performed at the recommended times, it helps ensure that the tires wear evenly and prolongs the useful life of the tires.
Battery Test
If you've ever gone to start your car and it just clicks, you may have experienced what it's like to have a dead battery. During our Kia Express Service, our factory trained technicians will test your vehicle's battery to ensure that it is not showing signs of weakness. If your battery is not maintaining the proper voltage, we will let you know and recommend a replacement.
Come in today to Huffines Kia McKinney for Fast, Quality and Convenient Maintenance service completed in 60 minutes or less! *
*Limitations may apply. Speak with a Service Consultant for full details.
Huffines Kia Express Auto Service
At Huffines Kia McKinney, we understand that time is important to our customers, so that's why we've created our Express Service program. Drivers from McKinney, Dorchester, Princeton, Prosper, Allen, and the surrounding areas can take advantage of our pit stop-style service. Our expert technicians will provide you with a convenient maintenance experience that will have your Kia running at its optimal performance in 60 minutes or less.
In under 60 minutes, we complete the following services on your car:
Kia multi-point inspection
Genuine Kia oil and filter change
Tire rotation
Minor maintenance
Our friendly, professional team is waiting to provide the service that fits in with your busy life. For faster service, greater value, and exceptional quality, schedule your Express Service today.
Kia Oil and Filter Change
Engine oil is your car's lifeblood and is essential to keep it running smoothly. Oil reduces friction between the engine's moving parts and helps to reduce heat. Kia recommends synthetic oil for all Kia cars. Synthetic motor oil is made using the most advanced technology, it improves your engine's performance, and it gives you an extended oil change interval of up to six months or 10,000 miles.
Kia Multi-Point Inspection
With our Express Service, the technicians will carry out a Kia multi-point inspection according to the intervals specified in your warranty and maintenance booklet. These services include, but are not limited to:
Fluid levels
Cooling system and hoses
Drive belt condition
Steering and suspension components
Engine air filter replacement
Cabin air filter replacement
Tire pressure adjustment
Tire tread depth and condition check
Brake pads thickness and condition
Battery service and replacement
Light bulb replacement
Tire Rotation
The condition of your car's tires is crucial for the vehicle's safe handling and performance. When tires aren't correctly inflated, they can also reduce your fuel economy. During your Express Service, we'll rotate the tires, which helps them to wear evenly to prolong their life. It's recommended that you have your car's tires rotated every 5,000 miles.
Battery Test
It can be a nightmare when your car's battery dies unexpectedly, especially if you're in a hurry to get somewhere. As part of our Express Service, our technicians will test the battery to ensure it's holding the proper voltage. If it's showing signs of weakness, we'll recommend a replacement for you.
Money-Saving Discounts at Huffines Kia McKinney
If you live or work in McKinney, Frisco, Plano, Denton, or beyond, Huffines Kia McKinney is your number one location for auto service. Whether you purchased your car from us or not, we frequently have great perks and special offers to help you save on the essential service items you need most. The offers are frequently updated, so check the specials online or stop by and visit us at Huffines Kia McKinney.
Let Huffines Kia McKinney be your first stop for all your auto servicing needs.Schedule your service online, call us at 469-525-4400, or visit us during operating hours on Monday through Saturday. We are conveniently located at 1201 North Central Expressway in McKinney, Texas 75070.